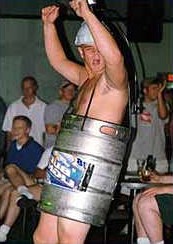 Anybody may join The Order, to do so send us your chosen name (it does not have to be your real name) and lodge as shown on the New Members page and list of open lodges.
Under no circumstances will we keep a record of, publish or otherwise use your email address. Your email is deleted as soon as the web site is updated. No other members list is kept.
Photographs are not necessary, but if you send us a picture of you displaying the logo we will publish it next to your entry on the New Members page. Here are some suggestions:
Have The Order's logo printed on a T Shirt
Buy any one of the many cool T Shirts, hats, drinking vessels, apron, stickers, cards or underwear available from the online shop, then have yourself photographed wearing or holding said item
Go to a hobby shop and buy an iron-on transfer sheet to put through your printer and iron the logo onto any garment you choose
Take a picture of you next to your computer with The Order's home page displayed on the screen
Print out The Order's logo and display it anywhere, such as in a window, at your desk, in your car etc., and then take a picture of you proudly standing by
Or any other way you can think of that pictures you and the logo together.